Vicmap Goes Digital

Vicmap Topographic Maps are a suite of digital and hardcopy mapping products covering the state of Victoria.  They are used for a variety of purposes including emergency management, navigation, natural and constructed resource management, recreation and bush walking, military exercise and education. It is available online via DELWP MapShare web site, previously known as Land Channel. DELWP required the ability to access Vicmap directly from mobile devices such as smartphones or tablets, using the existing DELWP IT infrastructure.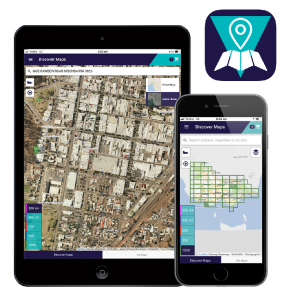 Spatial Vision developed a mobile App map ordering using solution based on advanced HTML5 hybrid framework that focuses on performance, and can create App for multiple platforms such as iOS and android as well as desktops using a single source code that can reduce the cost and effort of development for these multiple platforms.
Using cloud authentication services, a cost effective and highly flexible user identity management was implemented, optionally with social logins (eg via Facebook, Twitter or Google accounts).  Users can discover maps and navigate through the available maps in different scales. They can also discover the maps based on their location.
The solution included a shopping cart, in line with the modern and widely used online shopping experience.  On checkout, where they can still modify the shopping list and at the end of this process can pay for their order. Mobile payment option is integrated with an ecommerce platform to provide a seamless in app purchase experience for the user.
Users can view all their purchased maps on Vicmap Viewer mobile app while they are online or offline, and can also open it in any specialized geo-referenced map viewer such as Avenza.
Benefits
Assist emergency services and the wider community in strengthening their spatial awareness in the field
User friendly website to discover and purchase topographic maps via an interactive state map viewer
Ease of registration using social media accounts integration
Find my location functionality to quickly browse for the maps available around the user location
Convenient to use the replicated mobile app to explore available topographic maps
registered account and purchased maps are synchronized between the various devices
Purchased maps are available for download and use for online or offline mobile mode
Easy download from iTunes or Google Play store for free
To learn more, visit Vicmap Viewer or download the app on iTunes or Google Play.
For more information, please get in touch