Mornington Peninsula Display Signs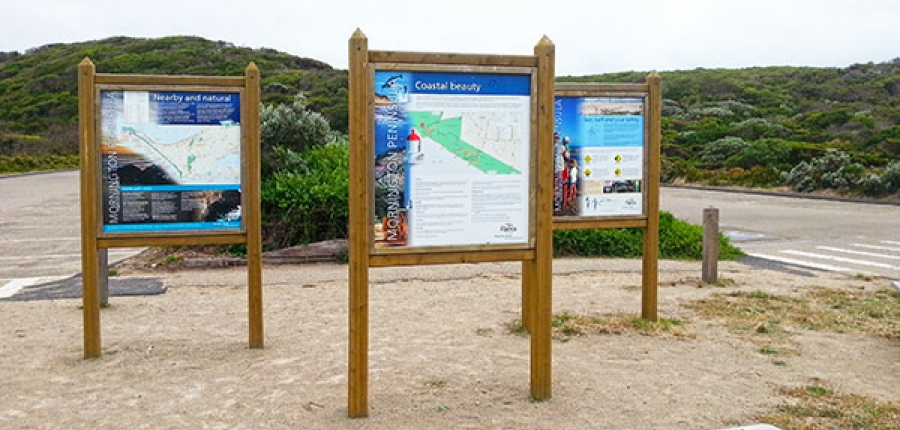 Spatial Vision has produced new information boards for key tourist locations along the Mornington Peninsula, providing enhanced information for park visitors.
The previous signs, which had been used for over 12 years, had been exposed to vandalism and had deteriorated in the marine environment, obstructing visitors' ability to obtain important information about key park locations, including London Bridge, Portsea and Sorrento.
The new signs, designed and manufactured through Spatial Vision, are now able to convey important park messages to visitors. Communicating visitor safety advice, environmental and cultural heritage values, things to see and camping and fire restrictions, the Spatial Vision's innovative presentation of information is enriching local and tourist visits to key sites along the Mornington Peninsula. Developing from this success, future plans are underway to improve signage in additional locations, including Rye Ocean Beach, Gunamatta and Cape Schanck.
This project, combining the latest tools and techniques with years of innovation and experience, complements Spatial Vision's earlier projects, including an interpretative display at the Australian Light Horse Memorial Park in Seymour. As a major training ground for the Australian Army during both wars, the site has cultural and historic significance for local residents and visitors alike. With Spatial Vision's effective signage techniques and informative display, visitors are now encouraged to explore the historical park with a genuine appreciation for the environment.
Taken together, these valuable projects exhibit Spatial Vision's significant understanding in addressing and creating signage products, proficiency in preparing conceptual designs, and preparing well-presented artwork and appropriately focused interpretative displays.
For more information, please get in touch