Hunting Dataset Development Project Wins Award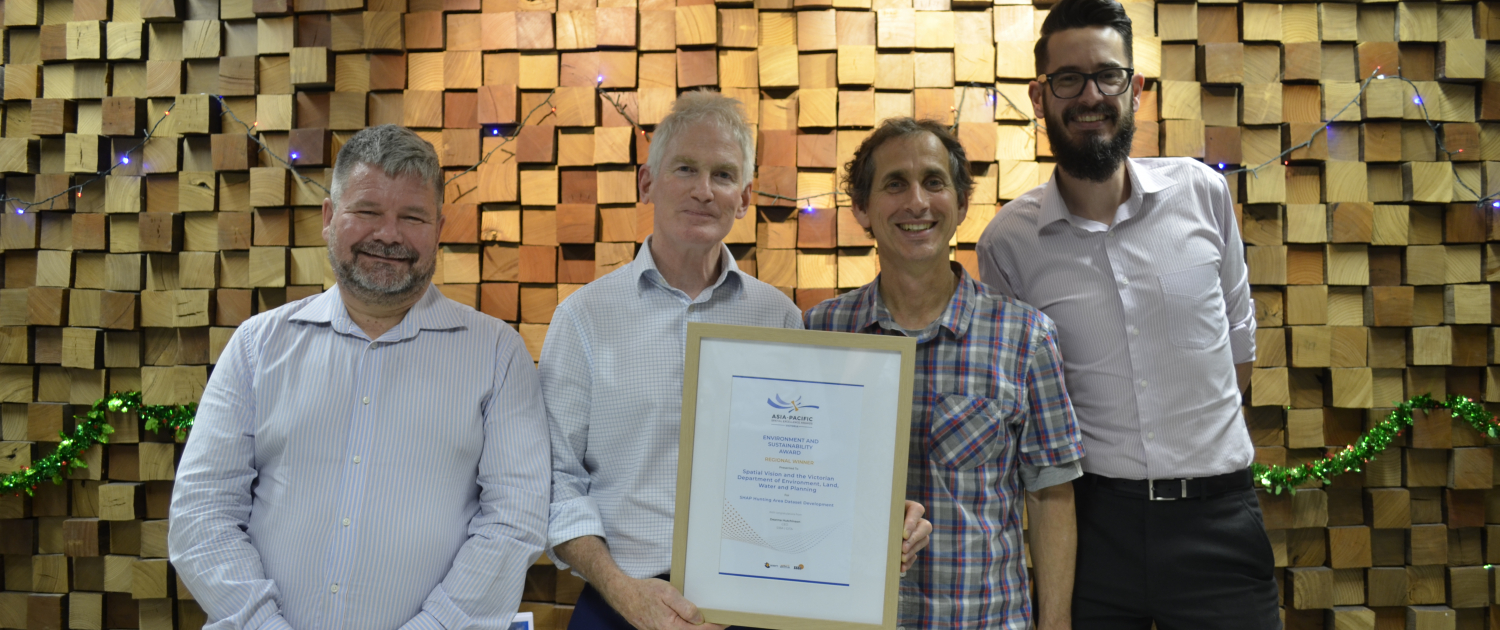 Our recent work on the SHAP Hunting Area Dataset Development project, in conjunction with the Victorian Department of Environment, Land Water and Planning has been recognised at the APSEA Awards dinner in Melbourne, winning the award for Environment and Sustainability in Victoria.
Spatial Vision was commissioned by the Department of Environment, Land, Water and Planning to create a series of hunting area datasets across public land in Victoria.  The purpose of the project was to support the implementation of core components within The Sustainable Hunting Action Plan 2016-2020 (SHAP) which requires development of a map set for Victoria showing where game hunting on Crown land is permitted. More specifically, the project aimed to confirm the process by which suitable hunting area spatial datasets were to be generated, implement this in the form of an automated process based on spatial datasets and rules, and then publish the output of this process into the DELWP corporate spatial repository as well as other platforms.
The approach we adopted involved a number of steps. Firstly, we developed a set of business rules that identified hunting area inclusions and exclusions. This involved an extensive review of current and relevant legislation, gazettals, rules and regulations to determine where and when particular game and pest species could be hunted, and by what hunting method. The development of these rules involved identifying what spatial features could be used to identify hunting areas, and where additional spatial information needed to be captured. A key stage in the development of these business rules involved extensive consultation with a project reference group and other relevant stakeholders. This large and diverse stakeholder reference group was established for the first time and included representatives from Victorian land management agencies, hunting authorities and fire arm regulation authorities.
A key requirement of this project was to provide an authoritative spatial dataset for Victoria that identified where hunting of different pest and game species could occur on public land. This was an issue since no such dataset or map currently existing and many of the rules associated with hunting were confusing or unclear. There were also changes being made that needed to be accurately reflected in any future hardcopy or digital map product.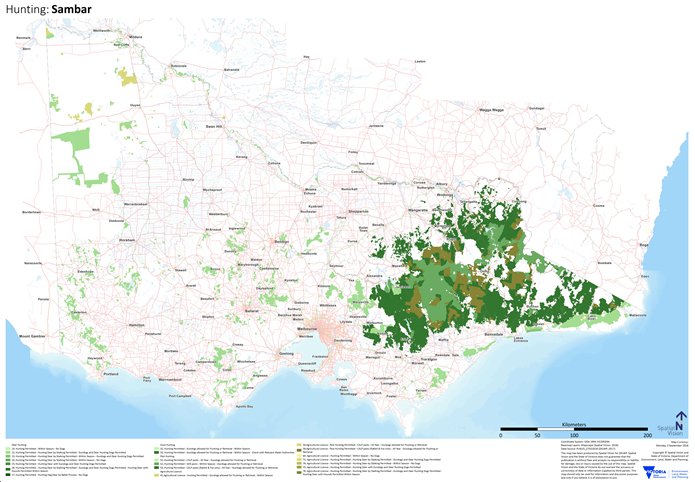 Dan Meehan from Crown Land Administration Support, DELWP said "Spatial Vision achieved a great outcome for the Victorian community both in terms of the quality of the hunting dataset outputs developed, and spatial tool that it deployed so as further changes in the hunting rules can be readily implemented."
The outputs of this work provide:
The first maps and spatial representations of where game and pest species can be hunted on public land across Victoria.
A clear set of hierarchal business rules that define where hunting is permitted, when and how.
A spatial tool that can be updated to reflect rule changes or any issues identified in the current interpretation of the rules.
Greater confidence and clarify around where hunting is permitted so that all stakeholders across the sector can more effectively plan and manage hunting related activities.
Greatly improved access to, and consistency in, hunting area related information.
For more information, please call on 
1300 366 796
 or alternatively email 
here
.
For more information, please get in touch