Data Farming Mapping Platform Wins Award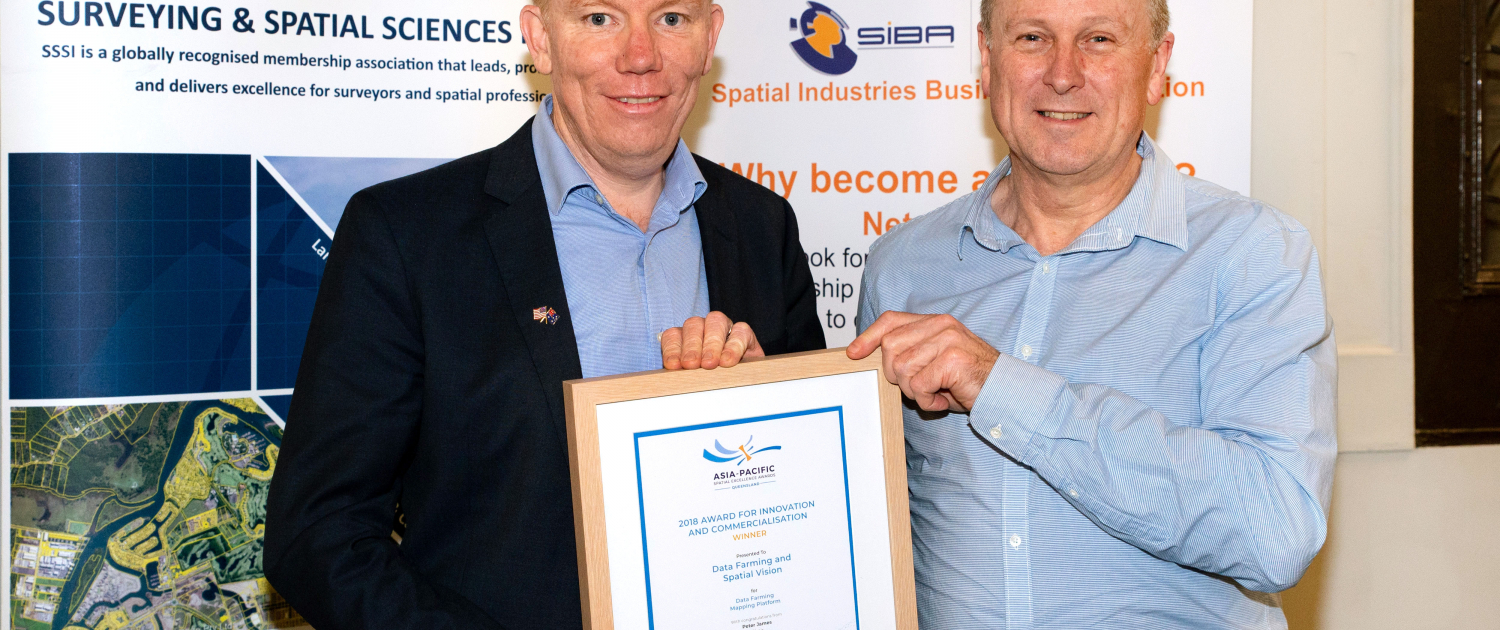 We are proud to announce that the Data Farming Mapping Platform, developed with precision agriculture firm 
Data Farming Pty Ltd
, has won the award for Innovation and Commercialisation at the recent Queensland Spatial Excellence Awards. The awards are the Queensland spatial industry's premier gala event where organisations and individuals are acknowledged for their outstanding contributions and achievements in their respective state.
The Data Farming team approached Spatial Vision to work with them to design and build a Mapping Platform to automate the delivery of sophisticated data products to farmers and agronomists. The vision was to deliver an easy to use web-based platform which provides free or low-cost access to high frequency, high resolution imagery and a range of related, automatically generated products. By combining easy-to-use, mobile friendly web mapping, fast access to vast satellite imagery services and cloud-based raster and geo-processing engines, the platform puts actionable decision-making information products in the hands of small to medium sized agricultural enterprises.
The first stage was to develop a demonstrator platform which would enable users to easily locate and draw or import their farm paddocks, then access NDVI-classified imagery through their growing season. A modern, touch-friendly web application was developed using open source technologies and a scalable and cost-effective cloud architecture. Sentinel 2 was identified as the appropriate satellite imagery and Sentinel Hub was evaluated and selected as the source. Sentinel Hub processes enormous volumes of imagery data and provides OGC standard services of seamless 10 metre imagery, with a re-visit frequency of 2-5 days across the world.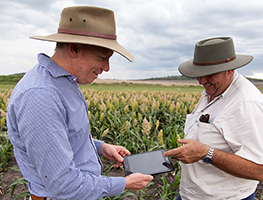 To ensure the product was useful, Data Farming's experience in creating actionable data informed the application development process, defining the algorithms and parameters to be applied. To make the product accessible, a seamless user experience was required. This ensured product selection, previewing the output, payment and subsequent access to the result was simple for users. End to end, creating a paddock zoning product takes only a few minutes, including on-line payment. The cloud and NDVI previews ensure that appropriate dates can easily be selected.
Within seven months of the launch of the DataFarming product, around 17,200 paddocks have been loaded or drawn, covering 3,000,000 hectares of farmland.
The Data Farming Platform's ingenuity is in the way it brings together deep agricultural knowledge and experience and a number of new and emerging technology capabilities to deliver fast, cost effective and highly informative data products.
Congratulations to Ian Miller, Imran Qazi and SV's development team on their outstanding efforts.
For more information, please get in touch