MinView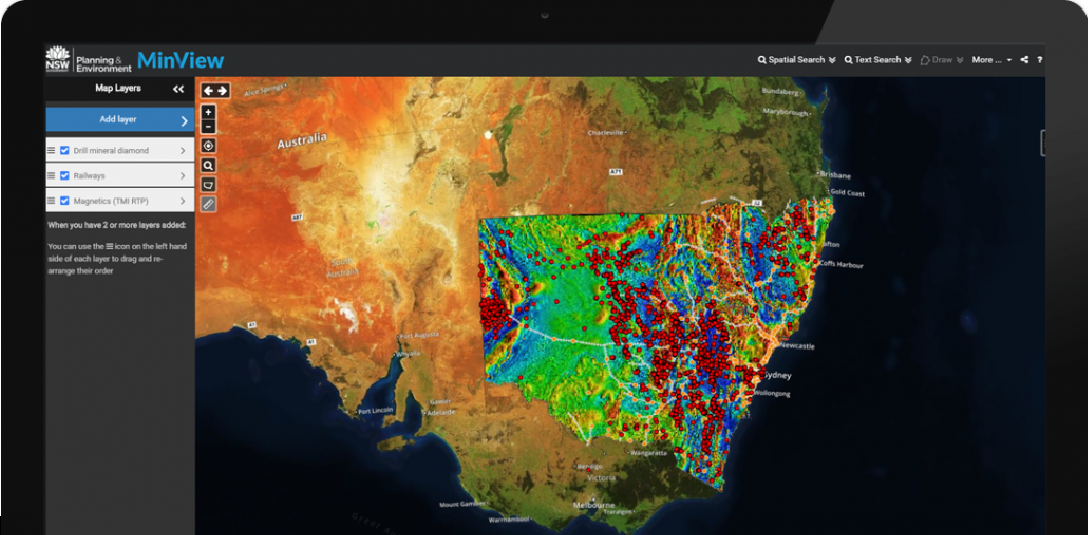 Geological Survey of NSW (GSNSW) engaged Spatial Vision to design and develop a new release of their MinView web mapping application.  MinView is a web-based delivery system that uses your internet browser to deliver an interactive mapping application in which you can display and explore the Department's rich collection of geoscientific data.
MinView is targeted at professional users in the exploration and mining sector and provides an extensive range of geoscience and mining related map data.
This new version of MinView draws together the different data types and formats from the Department's databases, including the Geoscientific Data Warehouse and Titles Administration System. It provides the opportunity to display all mineral occurrences, drilling, surface sample locations and analytical data results, along with the statewide geological mapping data and geophysical imagery. Together with the title administration boundaries, you can overlay all of this data on satellite imagery or topographic base maps in a single web map.
Spatial Vision built the new MinView to enable 3D viewing, in a responsive web design which is fully tablet and touch enabled. Under-the-hood, MinView is based on open source technologies, including GeoServer Open Layers, and Cesium ®.
Considerable user interface and user experience design work was undertaken to ensure an attractive and engaging user interface, suitable for both experienced GIS users and those business users who are simply seeking a dataset download.
MinView enables users to:
Search, find and view a wide range of geoscience related map layers
Add their own data to the map, whether from services or uploaded files
Save, retrieve and share map views
Query and search map data, including in 3D
Draw to the map to highlight areas of interest
Print the current map to PDF or image formats
In addition, MinView integrates with a range of GSNSW web services including data downloads and automated alerts of exploration and mining title changes like new titles, expired titles and changes to titles.
The largest audience of the MinView system will be the national and international mineral exploration industry. The broader audience will include related consultancies, federal, state and local government, scientific and research institutions, landholders, environment groups and education groups.
MinView is free to access, try it here
Learn more about Cesium here
For more information, please get in touch