Graeme Martin, working in collaboration with Dr Zaffar Sadiq Mohamed-Ghouse, spoke at the World Engineers Convention in Melbourne about some of the critical opportunities and challenges affecting Australia's infrastructure boom.
---
There has never been a more pivotal and important time to harness the power of location data or geospatial information to comprehend a situation and make decisions.
From climate change impacts to utility services; natural resource management to citizen science; traffic modelling to cultural heritage, the opportunities for better decisions are expansive and growing. Understanding the physical and connected nature of our world and its relationship to time, location and environment not only provides greater context to our changing world, but can unlock deeper, more meaningful and critical insights.

We are in the midst of a 4th Industrial Revolution, an era of digital transformation that has the potential to change nearly everything. The digital age with the convergence of technologies and information is presenting new dynamic possibilities and challenges in equal measure. IoT, Digital Twins, Mobility, and Artificial Intelligence etc. are creating a paradigm shift that have dramatically affected and will continue to affect how we live and our economy. With the rise of 5G and increasingly growing populations within our cities, we will  see more and more devices, sensors and demand for access and bandwidth.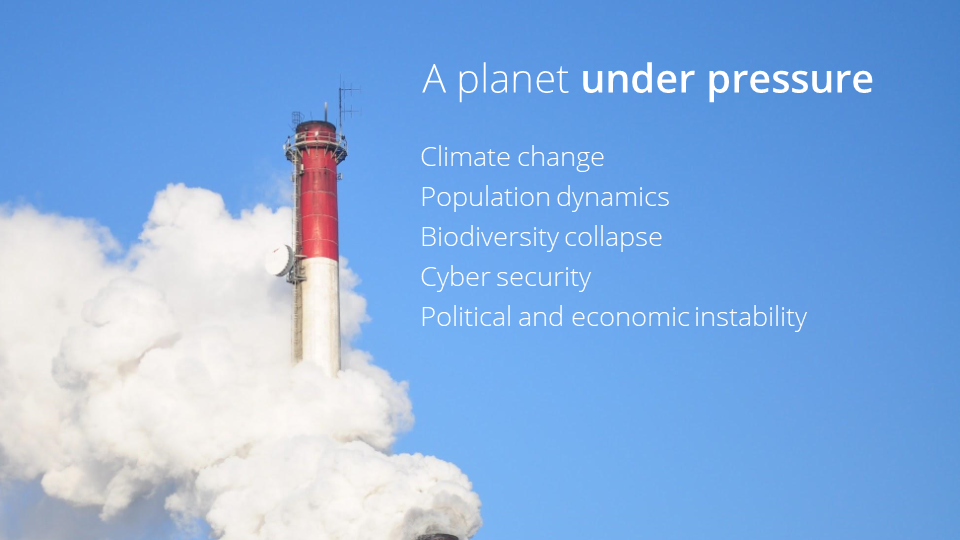 A planet under pressure
As we enter a period of digital transformation, we are faced with the rising and ever-present threat of climate change accelerating natural disasters. Our planet and our comfortable lives are under pressure from a number of forces, including human population dynamics, biodiversity collapse, cyber security and political instability and economic disruption. How do we understand the significance of these and many other issues to our business? Answers can often be found in data.
By connecting industry challenges with location insights (LI), we can better adapt to a changing world.
Location Insights or geospatial intelligence, is the process of deriving additional meaning and understanding from geospatial data relationships. Geospatial data, technologies, processes and thinking can enable us to better comprehend the magnitude of change, be it threats or opportunities.
Economic impact of geospatial
The Geospatial industry has been around more than 50 years however it has been supercharged over recent times by digital transformation. A 2017 report highlights the impact of geospatial on consumers, businesses and to society in general. Most notably, the growth in economic impact was estimated to have grown from $1,100 billion in 2013 to $2,100 billion in 2017.
The economic impact of geospatial industry is estimated to have grown from US$1,118.7 billion in 2013 to US$2,210.7 billion in 2017.

—Geospatial Media
Open Data
The implementation of open data as a principle and practice by state and national governments has been a revelation.
Importantly, the principles have stimulated people's thinking about the value that can be derived from data and opportunities for collaboration.
One of those great opportunities is where all the players relevant to a location including utilities, local and state governments, and telecommunications and road authorities publish their data to enable a holistic view of particular locations. This could include static and live data on water supply, sewerage, stormwater drainage, electrical networks, telecomm cables, road and transport infrastructure, buildings, land ownership, hydrology etc. Combining data from all service providers will enable much better planning of development activities, actual operations or even responses to emergencies. It would enable much better understanding of the impact of planned works or disasters.
Some benefits include:
Enabling a holistic view of future development
Better coordination between councils, utilities, road authorities, and government
Transparency and empowerment
Less cost in data capture, minimising duplication.
While there are many challenges that people will raise such as data security, need for standards and wavering confidence in regards to reliability, it all starts with organisations, government and commercial being prepared to share their data i.e. make it open as either data or services. The graph below demonstrates the current attitudes towards the publishing of open data by water utilities. Whereas state and national governments have mandated open data as policy. Utilities, local governments and commercial governments are slow to come to the realisation that the benefits can outweigh the perceived risks.
Digital Twins
Digital twins of natural and built environments are virtual replicas of these environments that can be used to simulate existing operations or model scenarios. Importantly, the twins bridge the physical and digital worlds through live data, often IoT sensors.
A key component of digital transformation, it is a trending topic at the moment and a huge geospatially-enabled growth area. Unfortunately there tends to be an over emphasis on impressive 3D visual models, however the real value in these models lies in the digital simulation of business operation to assist decision-making in real time. For example, in the water industry there is a move to live operational models that support dashboard views of live water services, warnings about potential defects and alerts of failures. You don't need to see a model of the thousands of kilometres of pipes and assets to achieve this. Although the model will be underpinned by location-enabled data on assets and their performance.
There are huge range of benefits from implementing operational models, including:
Live update of the network condition/operation
Informed operations and decision-making
Increased data quality and reliability
Improve performance and management of risks
Potential to run and analyse future scenarios
As highlighted by the Australian 2018-19 Water Industry Survey, large water authorities are heading towards implementing live operational models for the crucial benefits they provide.
Construction & Engineering

If we take a look at the impact of geospatial technologies and data on one Australian industry, construction and engineering, the financial beneficial impact is huge. These benefits are estimated to be $313-547 million. The benefits are mainly contributed by precision surveys that eliminate the waste of re-work and enable significant automation of machinery such as bulldozers, excavators and graders such that they conform to the site plan.
By 2030 this could grow up to $1-1.9 billion.
"A more productive construction sector can also produce more physical capital or infrastructure than would otherwise be the case and this helps the industry deliver significant economic benefits across the economy".
Asset Management
Local government, utilities and transport companies with vast networks of assets are investing in accurate location data to better manage their assets. Management relates to being able to value their assets, know condition, plan and deliver maintenance services, quantify impact of new work on neighbouring stakeholders and the environment as well as preserve the safety of their workforce.
Australia-wide, it is estimated these new approaches result in operating cost savings of $445 million to $890 million per annum and capital cost savings of up to $2.4 billion per annum (via ACIL Tasman report).
Given the scale of digital transformation and global challenges, it's timely to consider how to geo-enable your thinking about how to approach problems as opportunities.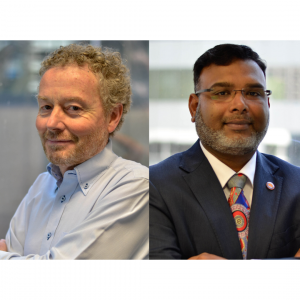 Latest posts by Graeme Martin with Zaffar Sadiq Mohamed-Ghouse
(see all)